4.2 The Input Queueing Family
[Up - Table of Contents]
[Prev: 4.1 Space Switching]

[4.3 Crossbar Scheduling - Next]
4.2.1 The Input Queueing Family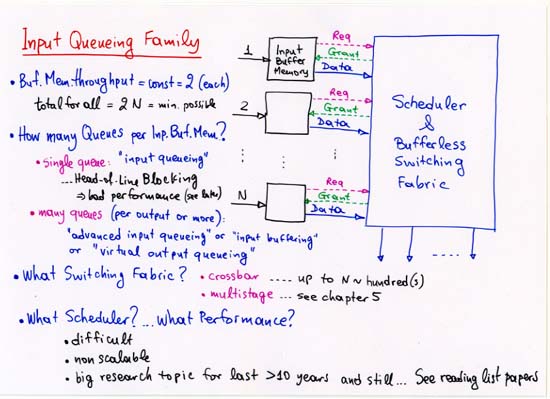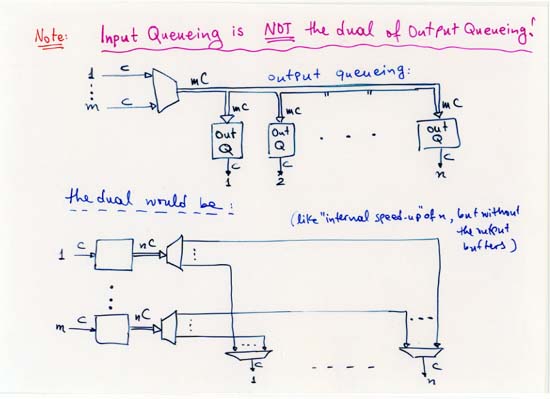 4.2.2 Old-Style (Single-Queue) Input Queueing - Head-of-Line Blocking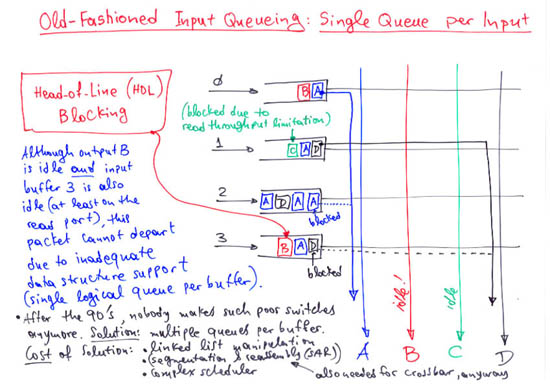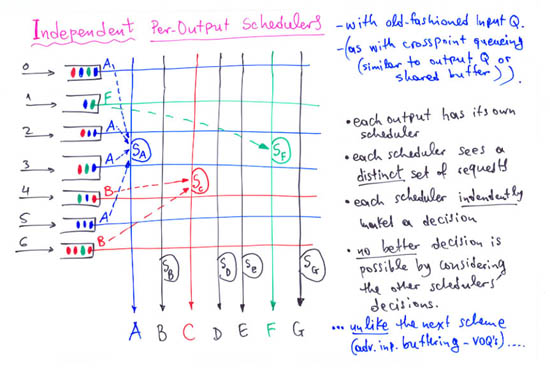 Throughput and Delay under Input Queueing with Head-of-Line (HOL) Blocking:
When the incoming traffic consists of fixed-size packets from independent, identically distributed (i.i.d.) Bernoulli processes, with uniformly-distributed destination (output) ports, analysis and simulation have yielded the results plotted below. Sources (© copyright IEEE):
M. Hluchyj, M. Karol: "Queueing in High-Performance Packet Switching", IEEE Journal on Sel. Areas in Commun. (JSAC), vol. 6, no. 9, Dec. 1988, pp. 1587-1597.
M. Karol, M. Hluchyj, S. Morgan: "Input versus Output Queueing on a Space-Division Packet Switch", IEEE Trans. on Communications, vol. 35, no. 12, Dec. 1987, pp. 1347-1356.
J. Hui, E. Arthurs: "A Broadband Packet Switch for Integrated Transport", IEEE Journal on Sel. Areas in Commun. (JSAC), vol. 5, no. 8, Oct. 1987, pp. 1264-1273.
Attention: results derived for i.i.d. Bernoulli (non-bursty) arrivals, with uniformly-distributed destinations (no overloaded hot-spots), are only useful for gaining a rough, first insight into the behavior of systems, but are often not representative of the real behavior of systems under real traffic!...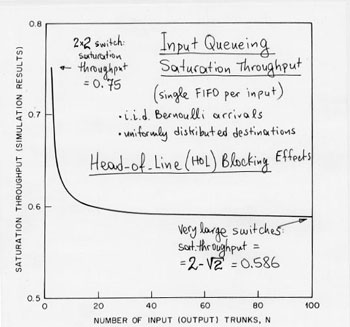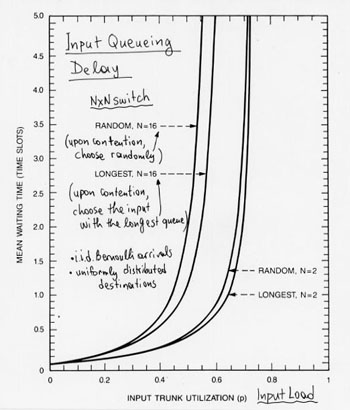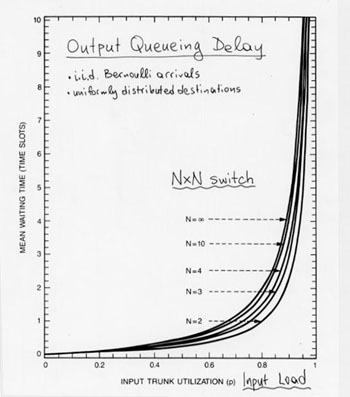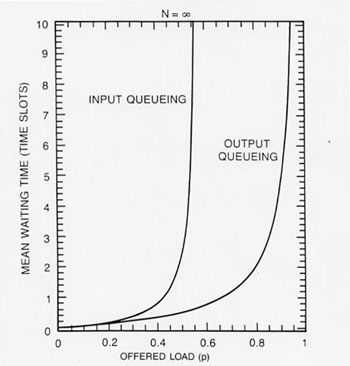 © copyright IEEE
Appendices for optional study:
Performance analysis transparencies by prof. George Stamoulis, CS-534, Spring 2000 semester:
Spring 2000 sec. 4.6: Input Queueing Throughput Analysis
Spring 2000 sec. 4.7: Input Queueing Delay Analysis and Variants
Spring 2000 sec. 4.8: Output Queueing Performance Analysis
---
4.2.3 Advanced Input Queueing (Buffering) - Virtual Output Queues (VOQ)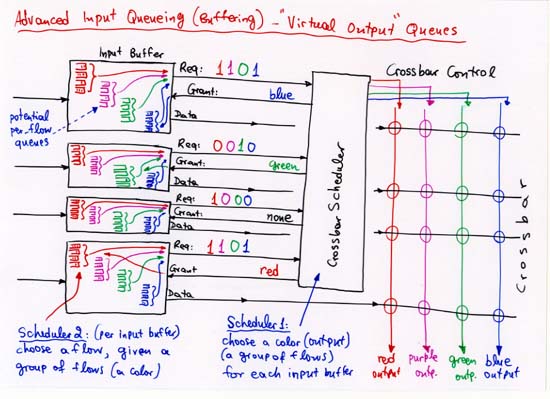 ---
[Up - Table of Contents]
[Prev: 4.1 Space Switching]

[4.3 Crossbar Scheduling - Next]
---